An important word about images.
If you click on a image, it will open full size. To exit the image and return
to the page, just hit ESC or click on the circled x in the lower right corner below the image.
In March of 2018, six of us flew from San Francisco to Christchurch with a plan for two weeks on the South Island touring on motorcycles rented from John Rains of Te Waiponamu Motorcycle Tours.  For five of our party, this was their first visit to New Zealand, motivated toward the trip by tales of my four previous New Zealand motorcycle adventures–the first in 2000 on one of John's guided tours of the North and South islands.
I was so captivated by New Zealand and its people that I returned three more times, twice leading friends from the United States on self-guided motorcycle tours.  For self guided tours John suggests a tour itinerary based on time and interests, and he arranges accommodations at interesting places that anyone not familiar with New Zealand would likely overlook. Over the years I have stayed in historic hotels, on a sheep station, and other places selected for off street parking and within easy walking distance of town and a pub.
Te Waipounamu (the Maori name for New Zealand) has been offering motorcycle tours of New Zealand for more than 30 years and is one of New Zealand's most experienced and respected motorcycle tour operators.  Based in Christchurch and Auckland, John offers a variety of guided and self-guided tours, and has a stable of rental bikes ranging from BMW to Triumph.
Paul selected a Suzuki 650 V-Strom for his ride; Pam a Suzuki Sv650, and Michael also a Suzuki 650 V-Strom with Chris on pillion.  John also set up a rental car for Debra and me.   I decided a car that would allow more freedom for taking photographs (okay, some weather protection also). The car was also useful as a swag wagon for extra bags and gear.
The map to the left shows our planned route around the South Island.  With a couple of modifications (indicated by the red lines on the map), this is pretty much the standard two-week self-guided tour suggested by Te Waipounamu to see the sights and enjoy the best motorcycling roads on the South Island.
I added Invercargill to visit the Burt Munro and other museums in the city. I also changed the route from Hamner Springs to Nelson to ride along the East Coast on Highway One to Blenheim and then back west though wine country to Nelson.
This latter change was to take us directly through the East Coast epicenter of the 2016 magnitude 7.8  earthquake where we encountered several delays for ongoing road repair. This section of Highway One along the east coast was severely damaged in the earthquake and closed for an extended period, not opened again to traffic until shortly before our visit.  In retrospect, I should have followed John's suggested route and backtracked from Hamner Springs to Nelson, but the ride up the coast through the heart of the earthquake destruction was an sobering and challenging adventure, more so in the rain, as you will see.
After a pleasant stay in Christchurch,  we packed the bikes and found the road out of town, just in time to become snared in Christchurch morning rush-hour traffic.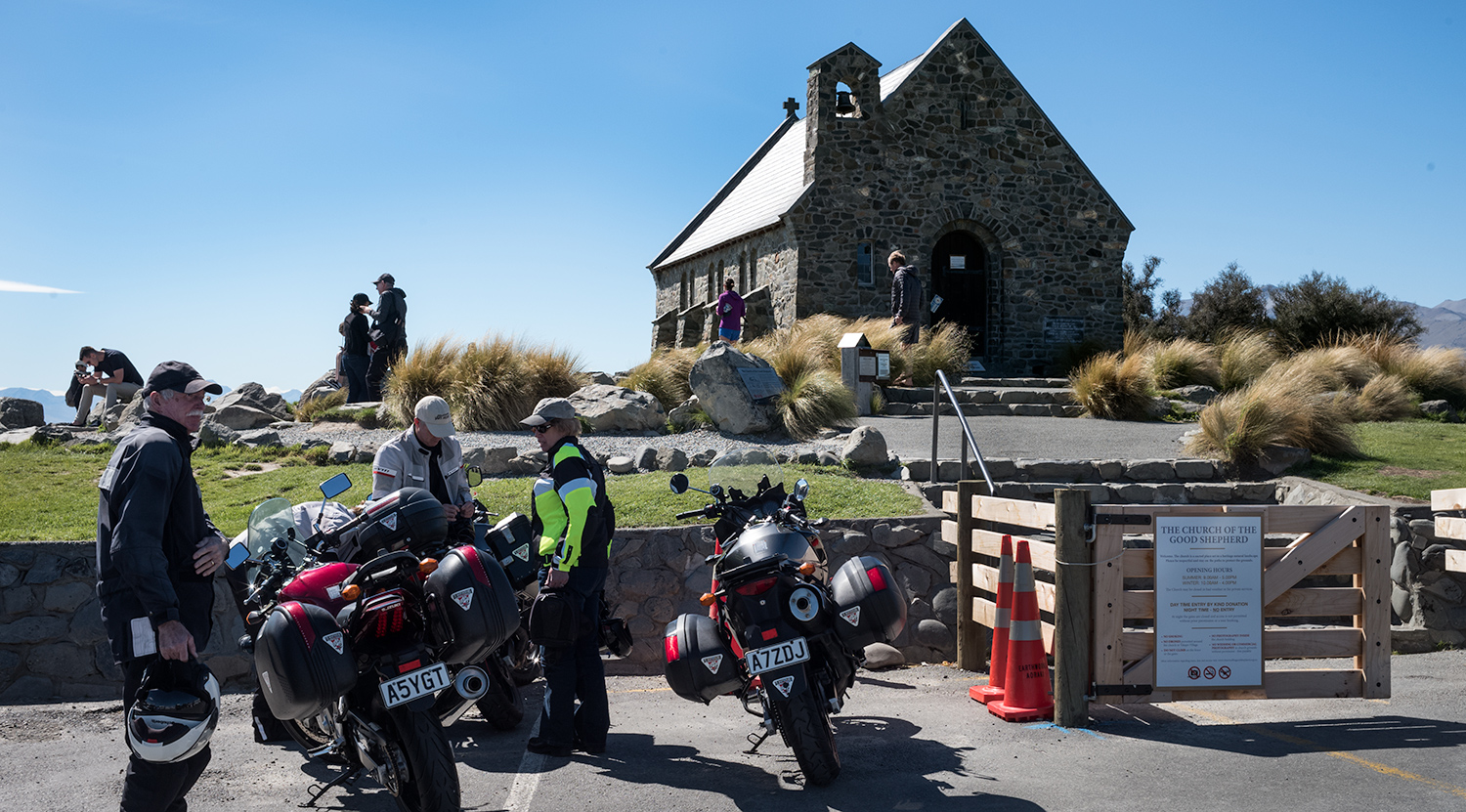 We stop at Lake Tekapo to visit the Church of the Good Shepherd, an iconic New Zealand landmark.
Built in 1935 as a memorial to the pioneers of the region, this charming stone building sits on a point overlooking stunning views of Lake Tekapo. During our visit a wedding was in progress, but we managed to peek in the rear window without being caught.
Nearby a bronze statue of a sheepdog celebrates the importance of this agile and intelligent animal to grazing in this mountain country. The waters of Lake Tekapo are a striking turquoise color, the result of "rock flower" inflow from the glaciers around Mt Cook to the north.
A few miles after Lake Tekapo we pass along the shore of Lake Pukaki,
Then on to the little village of Twizel where we found a pub only steps away from our lodging.

Click to continue on to Dunedin, Invercargill, and more of New Zealand